Hello!
Welcome to my website. Here you will find all my work since 1995 until now.
If you need help about pricing, shipping or just to comment, fell free to use the email available on contacts
I hope you enjoy it!


Last News
12/05/2013
Lisbon Agenda for May 13
01/05/2013
Interview in Deepart Magazine, check it out
30/04/2013
Honored to be invited to exhibit my work in LX Factory, OPEN DAY is on 10th May don´t miss
here is the agenda, click to view
---
27/04/2013
New article about meetING art gallery on New York Yareah Magazine. Click on the image to see the all article.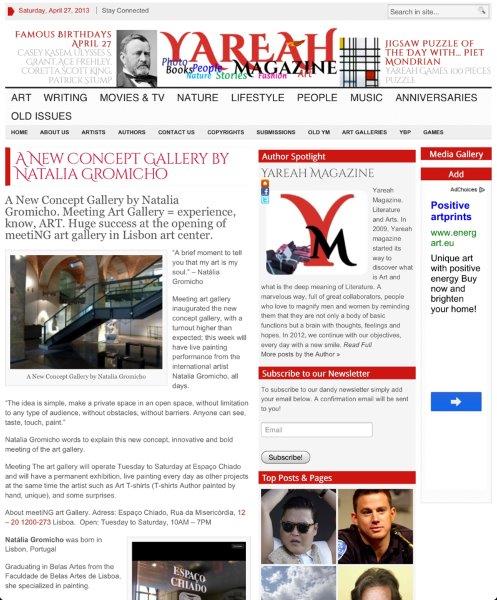 25/04/2013
Here are the photos of the Vernissage opening day of meetiNG art Gallery. A special thanks to the oficial sponsors, Monte Cascas and Casa da Prisca Gourmet.
Invitation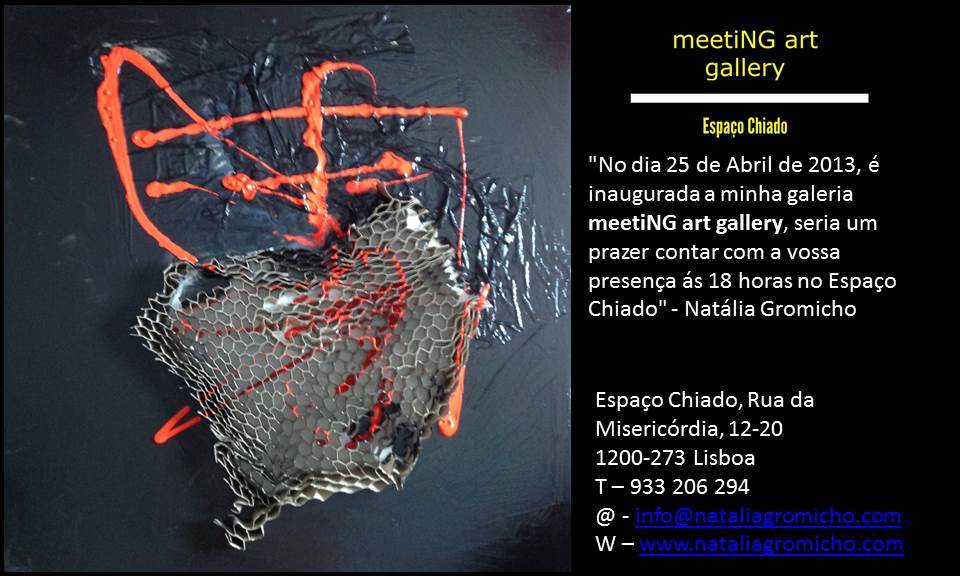 I´m very pleased to announced my first gallery, in Lisbon @ Espaço Chiado
Here is the facebook link for more details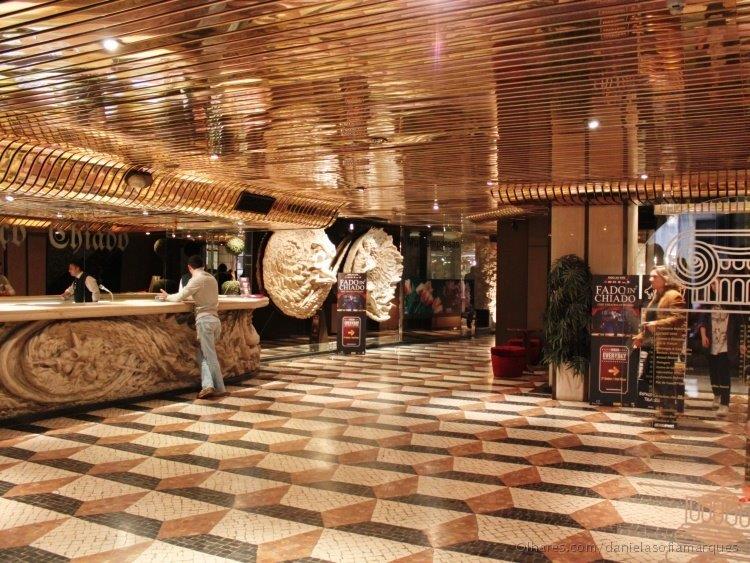 Here is the map
"Lisboa, dignos de nota"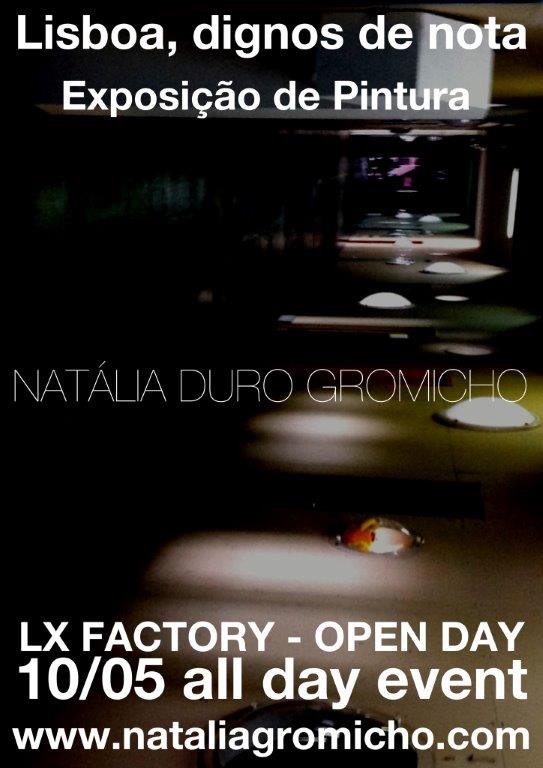 Hello everyone,
I´m really happy to announce that i will be present on the next Open Day @ Lx Factory next 10th May. I will show some news works, some installations and also some live performance.
For the first time, the concept Art T-Shirt is going to be present on a exhibition, exclusive on the Open Day 10th May.
For the ones that don´t know this event, check out this video of the e8th Edition
Thanks for all the support, see you there!
---
Next Australian exhibition will be in Sydney, stay tuned for dates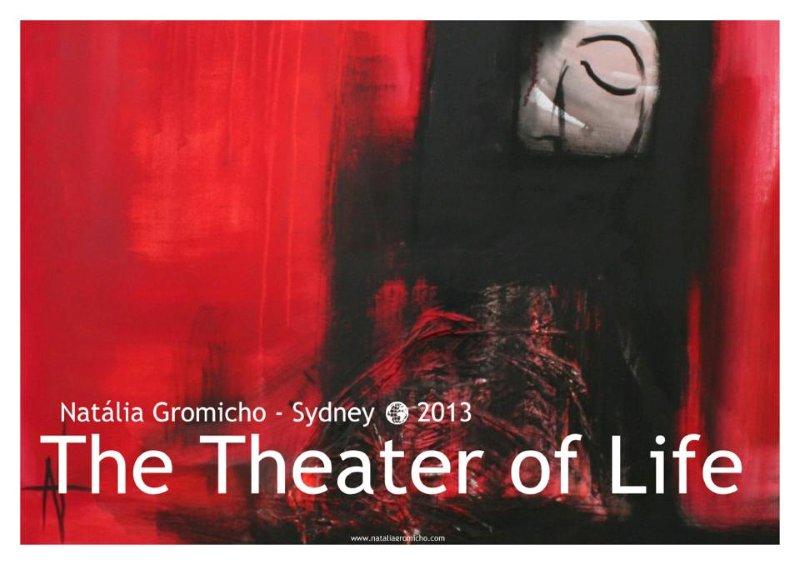 18/03/2013
Here is the article on the Wall Street International. Click here to see the original article.
---
17/03/2013
VERNISSAGE photos of "Singularidades Humanas" Click here to see
12/03/2013
Press
08/03/2013
O Presidente da Câmara Municipal de Estarreja, José Eduardo de Matos, convida para a abertura da exposição Singularidades Humanas, de Natália Gromicho, no dia 16 de março, sábado, pelas 17h00, na Casa Municipal da Cultura.
06/03/2013
Next and NEWEST exhibition called "Singularidades Humanas", a collection of 12 new works that i will show @ Galeria Municipal de Estarreja next 16th, 3PM
Some press about this exhibition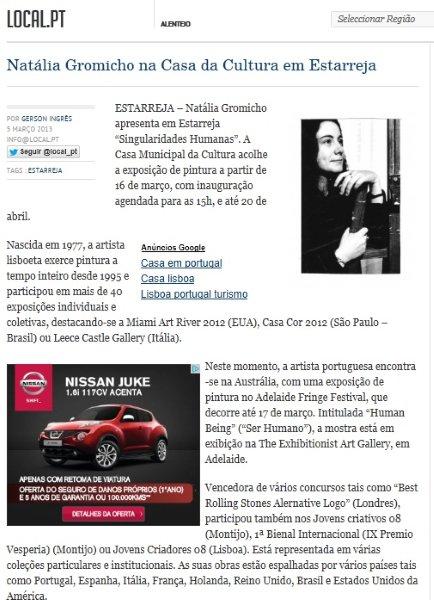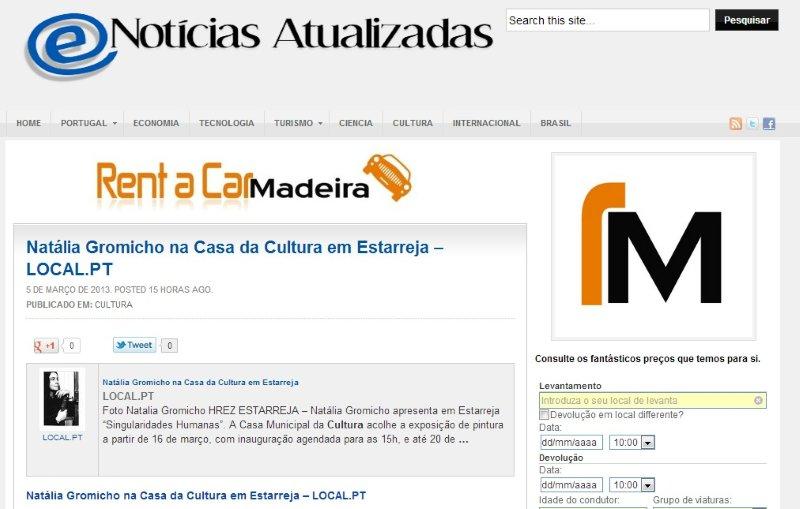 ---
03/03/2013
Website updated with all information about Human Being
See on Vernissage place or click here
15/02/2013
Here is the the Interview on TV Record.
Interview in 5EBI International Broadcast Radio in Adelaide, soon will be available the interview
14/02/2013
Portuguese newspapers:
Natalia Gromicho expõe no Adelaide Fringe Festival
A artista portuguesa Natalia Gromicho vai apresentar uma exposição de pintura no Adelaide Fringe Festival, na Austrália, que decorre de sexta-feira a 17 de março, anunciou a organização do certame....
O festival australiano, dedicado a várias formas artísticas, desde o teatro, dança, música, a exposições de artes plásticas, acolhe a exposição da artista portuguesa, intitulada "Human Being" ("Ser Humano"), a partir de 22 de fevereiro, data em que é inaugurada.
A mostra vai reunir 11 pinturas de Natalia Gromicho na The Exhibitionist Art Gallery, em Adelaide.
Nascida em 1977, em Lisboa, Natália Gromicho frequentou o curso de Pintura da Faculdade de Belas Artes de Lisboa, e também o curso de pintura da Escola de Arte Independente Ar.Co, de Lisboa.
Dedica-se exclusivamente à pintura desde 1995, e participou em mais de 40 exposições individuais e coletivas, tanto em Portugal como no estrangeiro.
A mostra da artista portuguesa está inscrita no conjunto de uma centena de exposições de arte no festival de Adelaide, entre as quais constam a mostra de Paul McDermott, "The Dark Garden", e a do designer de posters Andy Petrusevics, que apresentará um trabalho intitulado "Mitzie: Modern Icon".
A vasta programação do Adelaide Fringe Festival incluirá programas de circo, dança irlandesa, um espetáculo criado por artistas alemães, sob o tema do surrealismo e uma peça de um grupo de teatro islandês, entre os 930 eventos previstos.
Na edição deste ano do Fringe constam espetáculos dedicados à expressão da cultura aborígene, um festival de teatro de rua, e um certame dedicado à comédia, com mais de 250 apresentações de artistas como Jimoin, Judith Lucy, Denise Scott, Arj Barker, Danny Bhoy, Hanah Gadsby, Frank Woodley e Kitty Flanagan.
Lusa, texto publicado por Paula Mourato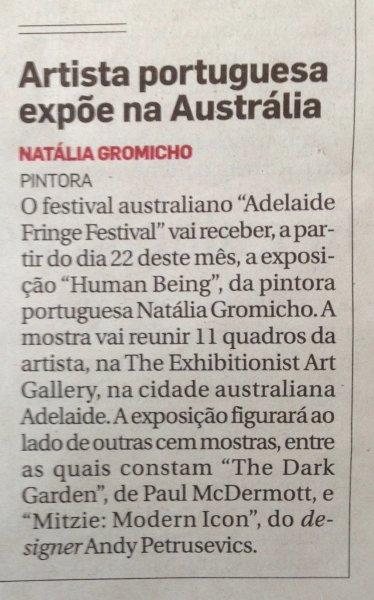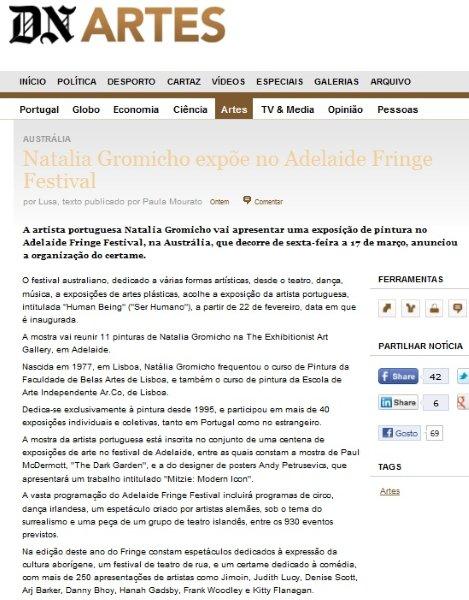 Other press from the exhibition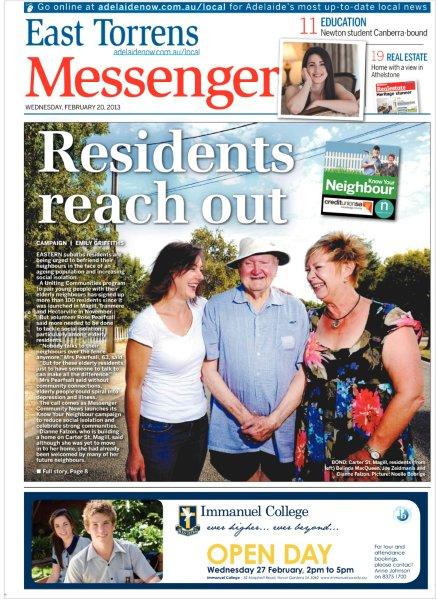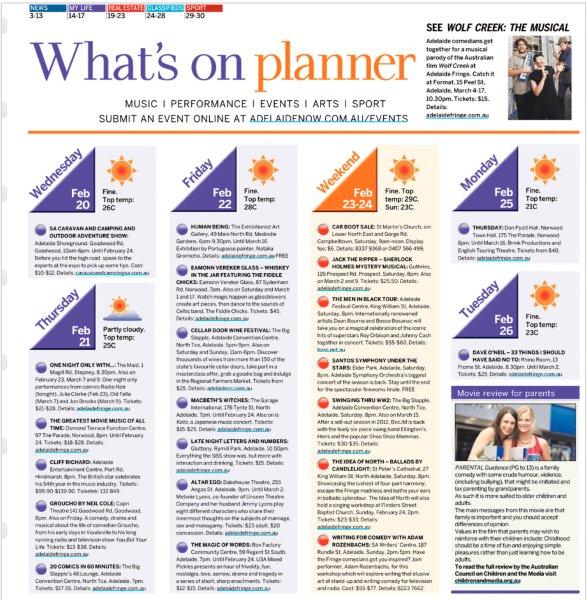 01/02/2013
Trouble Magazine Article about Australia exhibition.
Excellent work from Cassandra Scalzi, Curator of "Human Being, Art Critic and Owner of The Exhibitionist Gallery.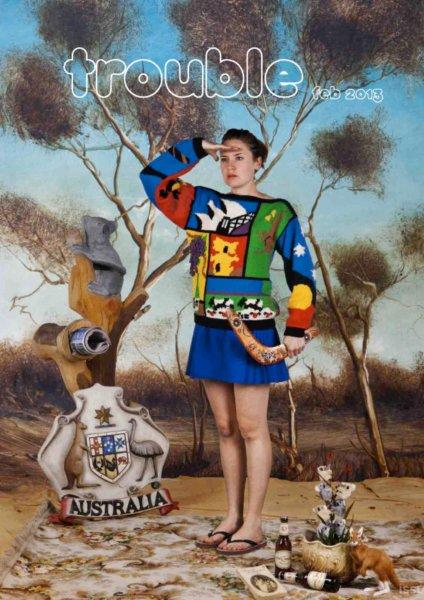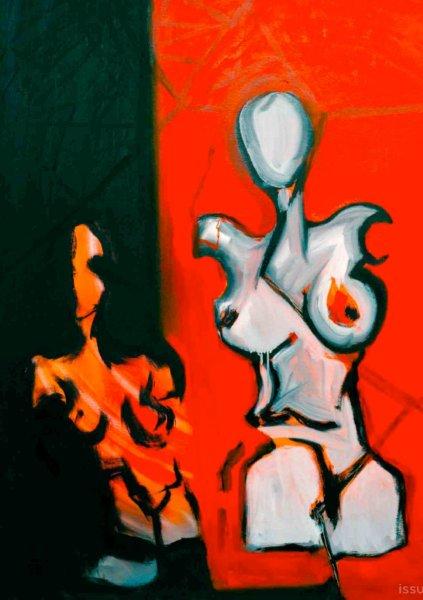 Here is the link for the Trouble Mag Ed. Feb 13
29/01/2013
Press on the newspaper "Mundo Português"
22/01/2013
Invite all to my next exhibition "Human Being" @ The Exhibitionist Art Gallery, Adelaide South Australia next 22nd February 6PM
This exhibition is curated by Cassandra Scalzi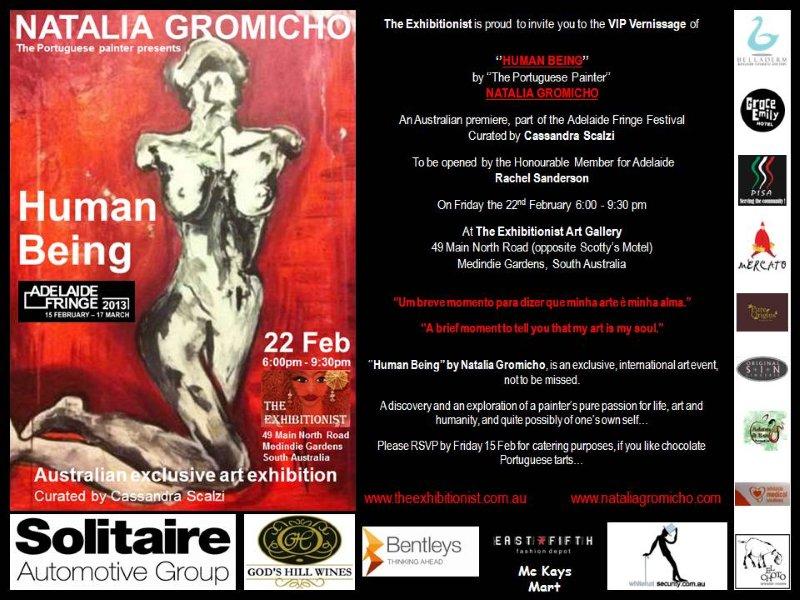 07/01/2013
Next exhibition media Coverage of Adelaide Fringe Festival. Thanks for Cassandra Sclazi, she is the Curator of "Human Being" and she is making a wonderful work. Thanks Cass you are the one!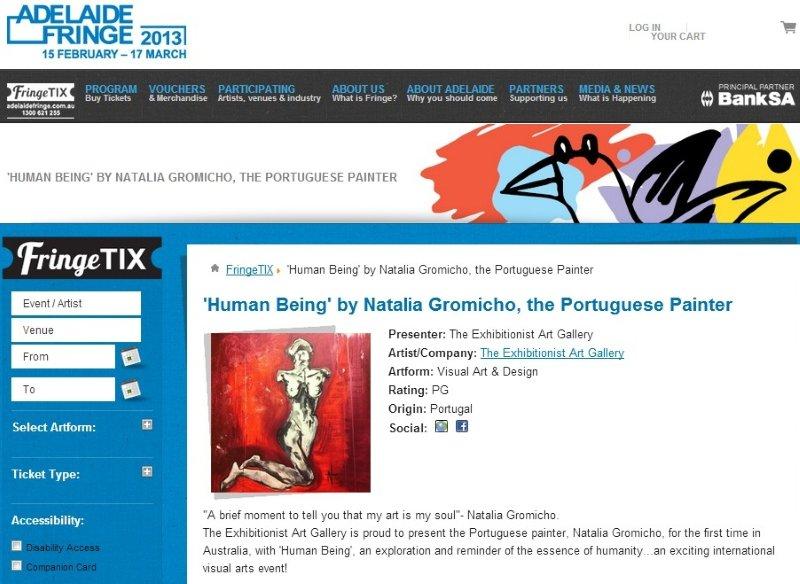 ---
30/12/2012
This is Ramon Casalé, Member of International Association of Art Critics (AICA)
that made his critic about my work.
"I find Natalia Gromicho´s work very interesting, an expressionist style in which figuration and abstraction merge. Colour and shape appear in most of her works, but also as a form of surrealism to show an incoherent reality, which is also present in her pictorial works.
Gromicho, through the human figure, aims to teach the concerns, issues and reflections which happen to every human being in their immediate surroundings. They are not always pleasant scenes, as the appearing protagonists, at some point show hostile and aggressive postures. In contrast, if we look at the primal position, the Portuguese artist has an attitude more expectant, as though, the animals are observing our movements. The colour indicates the intangibility of their proposals, since they are not real shades at all, but rather appeal more to the expressionist idea of colour, from which the most intimate feelings are reflected in all its magnitude.
Also, the female nudes, who star in some of her works, are more reminiscent of the mannequins we see in a fashion showcase, not animated beings, approaching the metaphysical world of De Chirico or surreal Wifredo Lam. The chrome background with primary hues, are balanced against the white of naked bodies, indicating that the artist is more interested in protecting the most intimate aspects of human beings.
As for the part where abstraction takes preference, we see the real Natalia Gromicho, in her most raw state, because her intention is to express herself with the most freedom, without too many considerations and ensuring that her proposals comply more with a European, expressionist style, rather than to action painting.
In conclusion, Natalia Gromicho, has cemented a firm value in the European art scene with a strong and consistent presence, which indicates a great professionalism, as does her varied exhibitions held throughout Europe, as well as in other continents"
<![if !supportLineBreakNewLine]>
<![endif]> Ramon Casalé
Member of International Association of Art Critics (AICA)

---
30/12/2012
Here is the official flyer of "Human Being", individual exhibition in Australia, curated by Cassandra Scalzi @ the Exhibitionist Gallery 22nd February 2013
---
For early exhibitions, visit About me and follow the name/exhibition you want to see, or go to PRESS ARTICLES for media coverage
---
I<![if !supportLineBreakNewLine]>NTERPRETATION OF THE WEBSITE:
<![endif]>
<![if !supportLineBreakNewLine]> Home: here is the main page, fresh news, calendar updates, press material<![endif]>
<![if !supportLineBreakNewLine]> About me: here you can find my CV (resumed and detailed), critics of my work, photos and coverage of exhibitions.<![endif]>
<![if !supportLineBreakNewLine]> Contact: here is all contacts you need for contact the artist or the commercial and operations structure <![endif]>
<![if !supportLineBreakNewLine]> Photo Gallery: here is all the images of my work, separated by years<![endif]>
<![if !supportLineBreakNewLine]> Art T-shirt: here is the new project that show the art on T-shirt by Natalia Gromicho<![endif]>
<![if !supportLineBreakNewLine]> Press Articles: here you can find press articles that were publish on physical newspapers<![endif]>